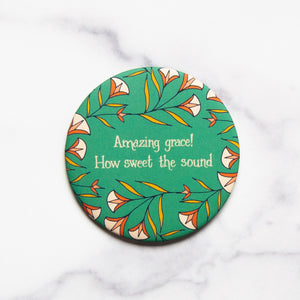 Using lines from the beloved hymn "Amazing Grace!", this hymn magnet speaks truth while holding up a note from your dad or this weeks dinner menu. The beautiful floral over the gorgeous green background is eye catching and holds a beautiful reminder. Agnes's 4-year-old hand included in a picture for size comparison. Design and text illustrated by Kate Whitley.
⧫︎ 3 inches with full magnet back.
⧫︎ Durable matte finish.
⧫︎ Affixed to a backing card and packaged in protective bag for gift giving.
⧫︎ Printed in the USA at Busy Beaver Button Co.