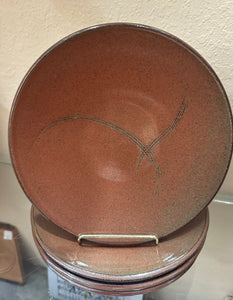 -Locally hand-crafted pottery made in Friendsville, Tennessee by ceramic artist, Seiko Maeda. 
-Dimensions for these plates are approximately 7" diameter. 
Seiko Maeda was born in Imari, Japan.  Imari is known for its beautiful porcelain and ceramic art.  Seiko's grandfather made his living painting delicate porcelain pieces.  She has lived in Friendsville, TN for more than 25 years and been making pottery for more than 10 years now.  She loves incorporating shapes from nature and crafting pieces that are styled in keeping with Japanese culture.