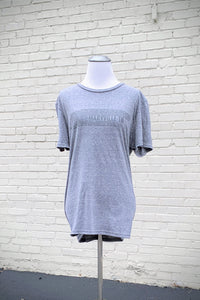 Maryville, Tennessee is a wonderful small southern town and this shirt highlights many of the most well known landmarks and business from years ago and today!
Included on this shirt:
J&K Grocery, Maryville High School, Pearson Springs Park, Morganton Road, Montvale Road, Sandy Springs Park, Blount County, Luke's Pool Hall, Vienna Coffee Co, HWY 129, Maryville College Bicentennial, Greenbelt Park, Sam Houston Schoolhouse, Three Sisters, Lamar Alexander Parkway, John Sevier, Pokey's, Vulcan, Morningside Inn, College Woods, Proffitt's, Oak Park, Chilhowee Mountain, Fort Craig, US Route 411, Jack Greene, Cusick St., Old Niles Ferry, Roy's Record Shop, Isaac L Anderson, Broadway Ave., Murlin's Music, Foothills Milling Co, Incorporated 1795, Bungalow, Little River, Sunset View, Kay's Ice Cream, Clayton Center for the Arts

The tee is a tultex brand shirt and has a 50% polyester/ 25% cotton/ 25% rayon blend. The wear and comfort of this tee are unbelievably great! So Soft! The tee is unisex and fits true to size. Our super soft, unisex, fashion fit tees wash and wear like a dream!  
Designed and printed in Maryville, Tennessee.
Pictured in Light Gray.