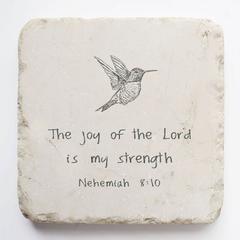 These Stones are one of our best selling gifts since they first hit our shelves!  The marble is quarried in the mountains east of the ancient city of Ephesus, which played an important role in the history of Christianity.
Nehemiah said, "Go and enjoy choice food and sweet drinks, and send some to those who have nothingprepared. This day is holy to our Lord. Do not grieve, for the joy of the Lord is your strength." Nehemiah 8:10

This stone is hand-printed and distressed by artisans here in the U.S.A.
Large Block — 4 x 4 x 1" 
Small Block

— 2 x 2 x 1"

Half Block -

— 4 x 2 x 1"

Ornament 

— 2 x 2 x 3/8"

Magnet — 2 x 2 x 3/8"