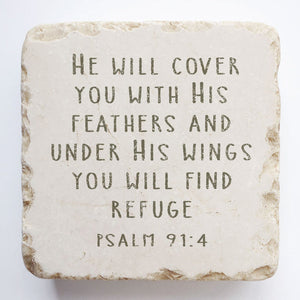 These Stones are one of our best selling gifts since they first hit our shelves!  The marble is quarried in the mountains east of the ancient city of Ephesus, which played an important role in the history of Christianity.
"He will cover you with His feathers and under His wings you will find refuge."
This Scripture Stone is hand-printed and distressed by artisans here in the United States.
Small Block — 2 x 2 x 1"
Half Block — 4 x 2 x 1"
Large Block — 4 x 4 x 1"
Magnet — 2 x 2 x 3/8"