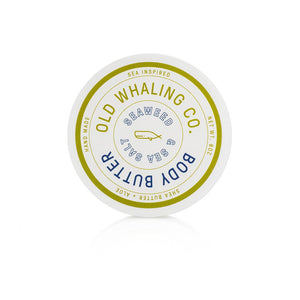 Escape to the beach with this light and happy blend of refreshing sea spray, sand, jasmine and sweet mandarin. One of our most popular fragrances, Seaweed & Sea Salt is a fresh beachy fragrance. Reminisce over fond memories of coastal vacations and seaside getaways with this sea-inspired scent.
Top: Sea Spray, Bergamot, Sand Jasmine
Base: Rosewood, Musk, Lavender, Sage
Our body butter is a perfect moisturizer for after shower, shaving, sun, or as needed! It is lightweight and soaks in quickly. A little goes a long way and will leave you soft and smooth. Our star ingredients of shea butter, organic sunflower oil and organic aloe vera is nourishing and great for all types of skin.