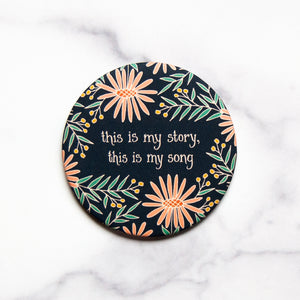 Using lines from the beloved hymn "Blessed Assurance", this magnet speaks truth while keeping papers affixed to your fridge. The beautiful floral over the deep navy background is eye catching and holds a beautiful reminder. Design and text illustrated by Kate Whitley.
⧫︎ 3 inches with full magnet back.
⧫︎ Durable matte finish.
⧫︎ Affixed to a backing card and packaged in protective bag for gift giving.
⧫︎ Printed in the USA at Busy Beaver Button Co.