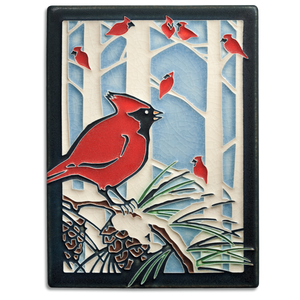 Artist Yoshiko Yamamoto is a self-taught block printmaker who strives always to fuse Japanese design sensibility with fine craftsmanship. Several years ago, Nawal Motawi, a longtime admirer of Yoshiko's work, approached her for a collaboration. Motawi thought Yamamoto's bold prints would work well as a raised-line tile design. She was right. Yamamoto's graceful, swaying scenes brought the clay to life.
"Winter Cardinals" is inspired by a print Yamamoto created to be featured in the PBS Series "Craft in America" for the holiday 2015 season.
Actual tile size: 5-13/16" x 7-13/16"
Tiles are 5/8" thick and have a notch at the back for hanging.
Each of our Motawi art tiles are designed and made by the artisans at Motawi Tileworks in Ann Arbor, Michigan.  These hand-made, historically informed art tiles are created for distinctive installations and as art pieces.  
Motawi Tileworks was founded in 1992 by Nawal Motawi, who started making tiles in her garage and selling them at the Ann Arbor Farmers Market next to the rutabaga sellers. Nawal's motto: It's fun to be good! (at what you do)  Motawi art tiles are now sold  in galleries across the United States.