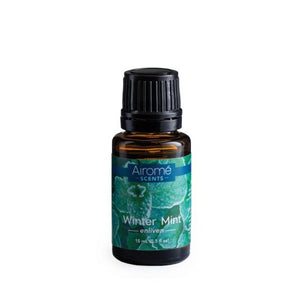 Winter Mint Fragrance: Refresh with this crisp, minty aroma. Enjoy the lively rush of a frosted winter morning.
For an all natural, toxin free home fragrance, add to your favorite essential oil diffuser. Diffuse to bring the crisp, fresh feel of a winter's day right into your home.
This crisp and fresh fragrance contains the following all-natural ingredients: Cinnamon, Clove, Nutmeg, Orange, Peppermint, Spearmint
Home fragrance that is pure and simple. Airome Scents are made of 100% pure and natural ingredients. Nothing fake. Nothing toxic. Get the classic home fragrance you love, formulated from all-natural ingredients.
Airome sources our essential oil and all ingredients of our essential oil blends from farms around the world, wherever the ingredient grows to its best and purest potential. Our diffusers are designed with your personal style in mind. From trendy to traditional, modern to farmhouse, you can find a diffuser that will become a beloved decorative piece in your home.